In this post, I will be sharing my honest Tree Naturals review of the bamboo and lemongrass shampoo bar and the green tea coconut conditioner bar.
My 4c natural drys up very fast and demands INTENSE moisture.
Due to the nature of my kinky coily hair, I find that it gravitates towards premium organic hair care products.
I randomly came across this black owned hair care brand while on my usually daily scrolling on Instagram and I was so excited to make a purchase and try it out.
What really caught my eyes were their unique biscuit textured shampoo bar and their unique conditioner bar.
I have never seen a conditioner bar in the natural hair space so it really stood out BIG TIME!
You should know that Tree Naturals specializes in handmade, organic products containing raw fair trade ingredients.
So after a few uses of these waste free bars, I want to share my honest review of this duo.
Tree Naturals Bamboo lemongrass Shampoo Bar
So let's get into the bamboo and lemongrass shampoo bar first.
At first, I was a bit worried about the concentration of the shampoo being in a bar and undiluted with water so I thought it might cause extreme dryness.
Luckily, it was the exact opposite experience compared to another brand I tried a year ago.
Texture
The texture alone sold me! I love a unique textured hair product!
The texture resembles a fresh baked dinner biscuit YUM, it appears to have pieces of rice in it too.
The feel of it is bumpy and lumpy, there is nothing smooth about this bar when you touch it.
Performance
So this shampoo bar was great on my 4c natural hair.
After I dampen my hair with water, I gently glide it down the shaft of my hair.
At first, I noticed that a little goes a very long way when using it.
It produces thick heavy suds very fast on the first lather. I literally do not see the need to go for a second lather when using this shampoo bar.
This is a water activated bar since there isn't any water in the ingredients.
Even though the texture of this shampoo bar feels lumpy and a bit rough to the touch, surprisingly, it glides on my hair strands VERY smoothly without friction.
A win!
The smell is so BOMB. It contains a clean lemon citus scent that is so invigorating to the senses.
It defintely gives off an uplifting aura while washing my hair.
So, I didn't experience much slip and softness with the shampoo bar applied to my hair and I wasn't really expecting it since it has such a strong lather.
But let me tell you, my hair felt so good after rinsing out.
The tree naturals shampoo bar definitely gives the hair a medium deep clean without causing a dried out feel to the hair.
Honestly, I love this shampoo bar and it is worth another purchase from me.
Tree Naturals Green Tea Coconut Conditioner Bar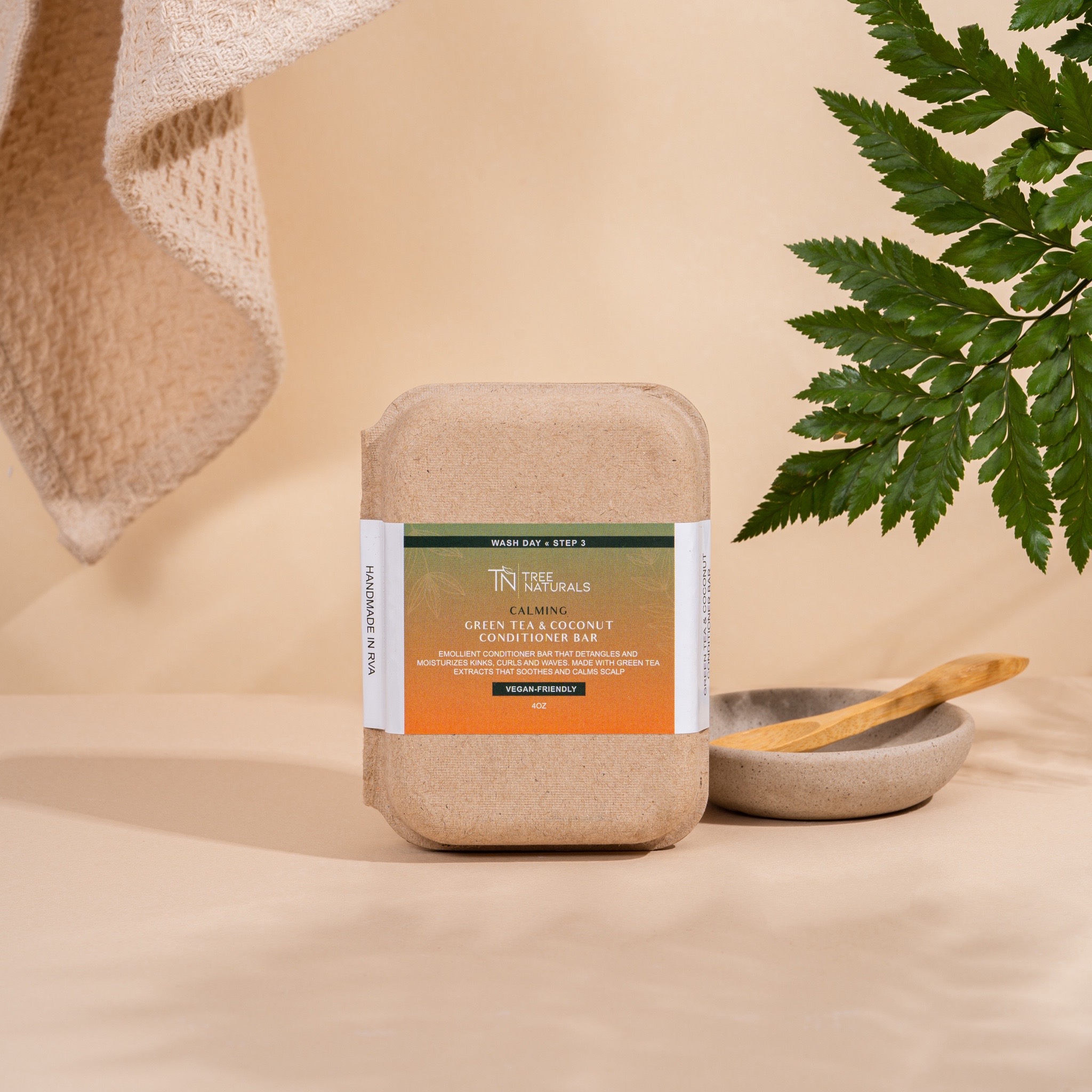 Ok, so I love a good deep conditioner and I had really given up on regular conditioner since they don't provide that deep moisture my 4c hair craves.
Before buying this coconut and green tea conditioner bar, I was HIGHLY skeptical but it was so unique that I couldn't pass it up!
I willingly tried it to see what exactly it can do but was more hyped about it being in bar form more than anything else.
Texture
So unlike the shampoo bar, this one is very smooth to the touch.
I really looks like a regular soap bar you normally see in stores.
Performance
After saturating the hair with water, I glide the conditoner bar over my strands in a downward motion.
It's actually suggested to be used both before shampooing and after.
I use mines after shampooing since I would hate to waste this yummy goodness.
You have to keep wetting the conditioner while applying it to the hair or else friction will occur which causes small pieces of hair to break off.
Ok so this stuff is the TRUTH! It definitely over delivered on it's performance.
I was very shocked by how moisturized my hair felt after rinsing it out. I was even able to skip my weekly deep conditioning session after using this bar.
Something which is rare!
It doesn't have the best slip for detangling with the conditioner applied to the hair but it provides EXCELLENT moisture.
The effects is mostly felt after rinsing it out.
Both of these bars works so well on my 4c hair and I look forward to enjoying them for a long time
Any Cons?
Can it really be all perfect?
Well the only cons of these are probably the claims of the amount of usage you get from the bars.
I really cannot see these bars giving me 80+ uses, especially with my thick afro kinky hair.
Also, it is a bit annoying having to wet the conditioner bar over and over.
Overall, I am happy with the Tree Naturals brand and look forward to trying out more products from the line.
The ingredients are superb quality and it shows in the performance.
Have you ever tried this brand? If not, check it out here and save 15% at checkout with code TYIECE